As you know federal investigation agency FIA has announced 1100 more then 1 thousand 1 hundred and forty Seats in federal investigation agency through its advertisement 2021 . The minimum qualification to become able to apply for these post is matric , fsc intermediate and Bachelors with the required age of 20 – 25 . Five years age relaxation will also be given according to the rule of federal government of Pakistan.
The Federal investigation agency announced more then 1100 posts of BPS 15 BPS 16 BPS 14 BPS 11 and 09 . However those who are entrusted to apply for these post should apply from the official website of FIA Jobs.fia.gov.pk.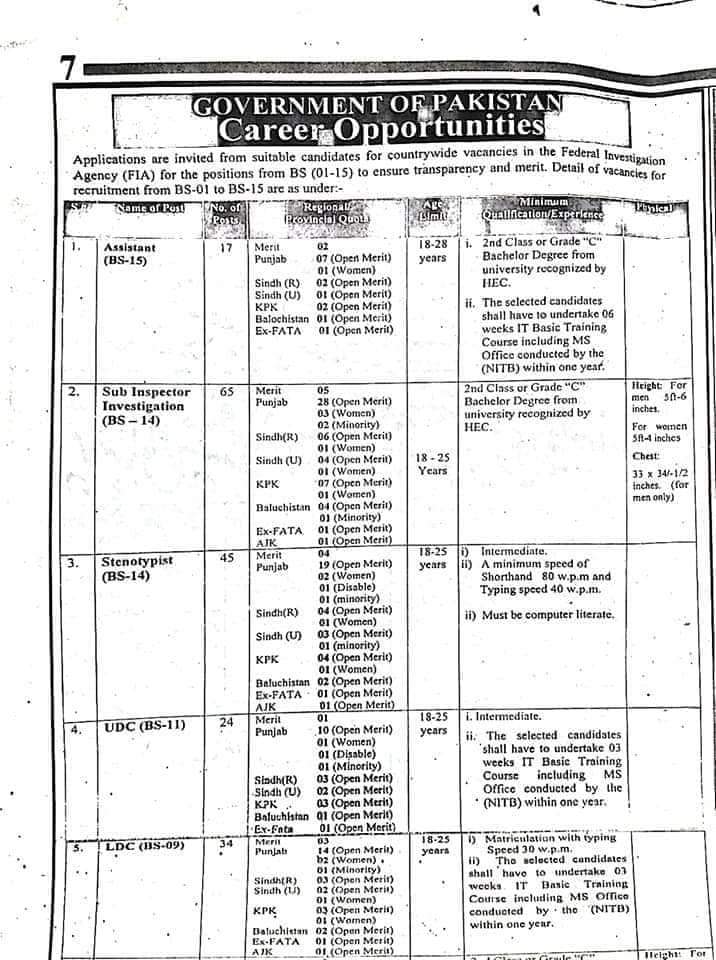 Terms and Conditions:
The candidate must apply online through the official website of Federal Investigation Agency
The Candidate must have to give its right credentials . The information provided online will be considered final
However , The candidate who are applying for the Sub inspector, Assistant Sub-Inspector Constable Jobs must have to clear a physical running test of running one Mile in 7 minutes
More over No TA / DA will be given to the candidate in any aspect .
description Constables BS-05 Federal Investigation Agency (FIA)  Jobs 
Public / Government Sector Job
Federal Investigation Agency (FIA) Constables BS-05 Jobs 2021 test date
Not Defined
Federal Investigation Agency (FIA) Constables BS-05 Jobs 2021 salary in Pakistan
20000 to 27000 PKR
Federal Investigation Agency (FIA) Constables BS-05 Jobs 2021 pay scale
BPS-05
Federal Investigation Agency (FIA) Constables BS-05 2021 Jobs
Total = 596 Seats / Jobs | 44 Open
Federal Investigation Agency (FIA) Constables BS-05 2021 Jobs Punjab Open Merit + Women Quota
253 Seats / Jobs Open Merit | 30 = Women Quota | 15 Minority
Federal Investigation Agency (FIA) Constables BS-05 2021 Sindh Urban + Sindh Rural
Sindh Urban= 39 Seats Open Merit / Jobs| 05 Women | 02 Minority

Sindh Rural= 58 Seats Open Merit / Jobs | 07 Women | 03 Minority
Federal Investigation Agency (FIA) Constables BS-05 2021 KPK Open Merit
= 58 Seats Open Merit / Jobs | 07 Women | 03 Minority
Federal Investigation Agency (FIA) Constables BS-05 2021 Baluchistan Open Merit
= 31 Seats Open Merit / Jobs | 03 Women | 02 Minority
Federal Investigation Agency (FIA) Constables BS-05 2021 Ex-Fata Open Merit
= 16 Seats / Jobs Open Merit | 02 Women | 01 Minority
Federal Investigation Agency (FIA) Constables BS-05 2021 AJK Open Merit
= 10 Seats / Jobs Open Merit | 01 Women
Federal Investigation Agency (FIA) Constables BS-05 2021 promotion
Based of Service Duration and Test Clearance
Federal Investigation Agency (FIA) Constables BS-05 description in Pakistan
Good Job
Federal Investigation Agency (FIA) Constables BS-05 Test syllabus
Not Defined
Federal Investigation Agency (FIA) Constables BS-05 2021
Advertised
District & Session Courts Faisalabad Computer Operator online apply
Advertisement