MCQsFoundry.com brings to you 500+ Principles of Commerce ICOM Mcqs which are new and latest. These Mcqs are never published on internet so far. For full information about all PPSC / FPSC / CSS / PMS latest jobs visit theiteducation.com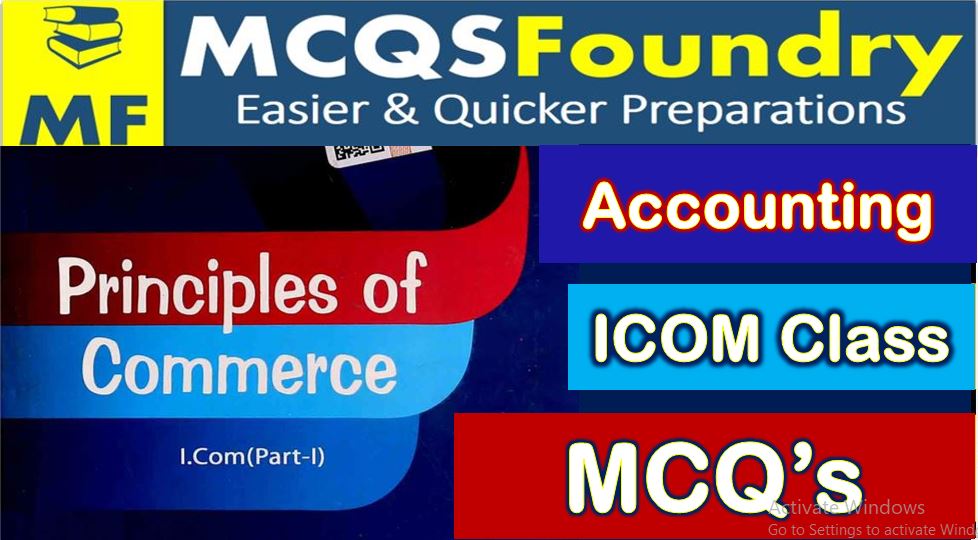 Chapter # 18
Insurance
Encircle the most appropriate answer from the following options\
---
1 In Pakistan, life insurance business was nationalized in:
1970
1972
1973
1978
---
2 Group insurance is popular among:
Unemployed people
House wives
Employees of business
All the above organizations
---
3. The objective of life insurance is to:
Make investment
Get security for loan
Lessen the financial burden
All the above
---
4. On the death of the insured, sum is paid to:
Friends
Dependent
Relative
Insurer
---
5 According to Jiwan sathi insurance, the husband and wife are provided with financial security in:
One installment
Three installments
Two installments
Four installments
---
6 The time period of rural insurance policy is:
15 — 20 years
20 a 25 years-O
10— 15 years
More than 25 ears
---
7 The voyage policy is taken for:
Specific voyage
Specific person
Specific centers
Voyage of different countries
---
8 Types of accidental insurance are•
Four
Two
Three
One
---
9 If a person gets his property Insured from to different company's, then it is called:
Whole life insurance
Compensatory insurance
Double insurance
None of these
---
10 The sum of marine Insurance is not paid:
If the ship changes direction
Trade is unnecessary
If the ship is not capable of the voyage
All of these
---
11 Why is the public not inclined towards insurance in Pakistan?
Due to ignore
Due to poverty
Due to economic backwardness
All of the above
---
12 What type of security does life insurance offer?
Individual
Collective
Both (a) & (b)
None of (a) & (b)
---
13 Insurance is an agreement in which the insurer:
Gives profit
Gives interest
Compensate loss
All of the above
---
14 The company that insures is called:
Insured
Proposer / Insurer
Acceptor
Business company
---
15 The person who gets himself insured is called:
Insured
Insurance policy
Proposer
Both (a) and (b)
---
16 Kinds of fire insurance:
Voyage and time insurance
Specific and floating policy
Fleet and valued policy
Endowment and term life policy
---
17 If a person having a property of two lakhs and insurance of fifty thousand, then in case of loss the company will pay:
thousand
I lakh
50 thousand
Nothing
---
18 Paid premium is refundable in case of:
Life insurance
Valued policy
Fire insurance
Marine insurance
---
19 Which insurance policy can be used as a security:
Marine insurance
Life insurance
Fire insurance
All the three
---
20 The principal of contribution is not applicable in:
Life insurance
Marine insurance
Valued policy
Fire insurance
---