MCQsFoundry.com brings to you 500+ Financial Accounting ICOM Mcqs which are new and latest. These Mcqs are never published on internet so far. For full information about all PPSC / FPSC / CSS / PMS latest jobs visit theiteducation.com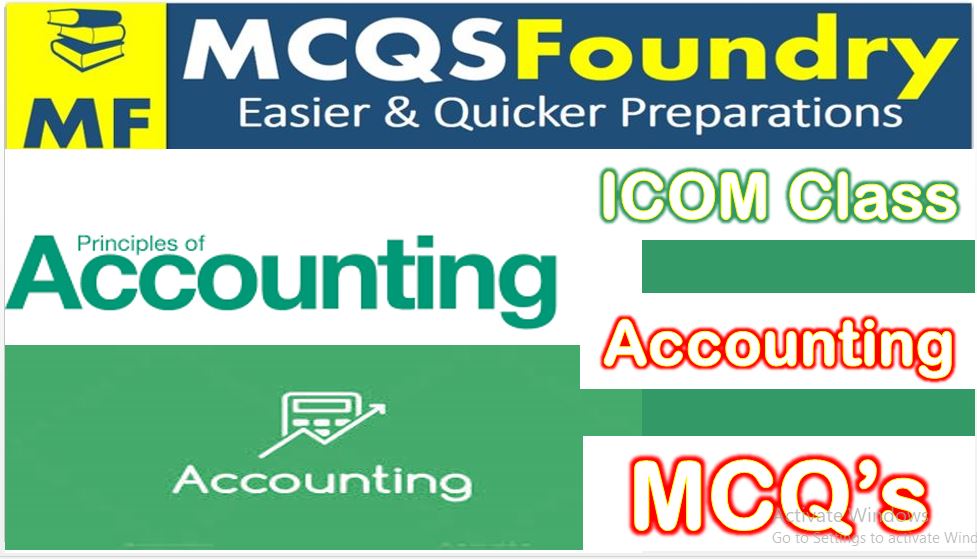 Chapter – 1
INTRODUCTION
Encircle the most appropriate answer from following:
---
1)The prime function of accounting is to:
Record economic data
Classifying and summarising business transactions
Classifying and recording business transactions
Provide the information basis for action
---
2) Any legal activity which is done for the purpose of earning profit, is called :
Business
Trust
Society
None of a & b
---
3) All those thing, which are purchased for resale purpose, are called:
Assets
Liabilities
Sale
Goods
---
4) Book-keeping is mainly concerned with:
Classifying of business transactions
Interpreting of business transactions in money terms.
None of above
Recording of business transactions
---
5) Book-keeping provides the:
Final information
Primary function
Secondary function
All of the above
---
6) how many branches of accounting are:
Two
Four
One
Three
---
7) Accounting is the language of :
School
Business
America
Proprietor
---
8) The rate of allowance given by a creditor to a debtor, if he pays his debts before the due date of payment is normally:
5 %
2%
10%
15%
---
9) All those good which are lying unsold in a business are termed as:
Stock
Revenue
Expense
Sale
---
10) The term expenses & expenditures are:
Same
OPPOSITE
Different
Singular or plural
---
11) A person who owes money to the business is called:
Creditor
Shareholder
Debtor
Owner
---
12) Stages for proceeding a transaction are:
Recording
Classifying
Summarising
All of these
---
13) If damaged or below standard goods returned to the seller are called:
Return outward
Purchase return
Return to supplier
All of these
---
14) The system of providing quantified information about an organization to people who need such information is called:
Economics
Bookkeeping
Accounting
None of above
---
15) The amount of cash or goods invested by the proprietor in a business is called:
Revenue
Capital
Assets
Expense
---
16) A person from whom credit purchases are made is called:
Debtor
Banker
Creditor
Owner
---
17) The price of goods sold or services provided by a business to its customers is called:
Expense
Revenue
Liability
Income
---
18) A form of remuneration for services rendered by one person to another:
Discount allowed
Commission
Discount received
Expenditure
---
19) It takes place when assets or services are acquired:
Revenue
Expenses
Assets
Expenditure
---
20) The discount allowed by the wholesaler to the retailer at the list price of goods is called:
Cash discount
Trade discount
Discount allowed
Discount received
---
21) A person to whom the goods or services are sold on credit basis is known as:
Creditor
investor
Debtor
Proprietor
---
22) Net income is equal to:
Revenues – Expenses
Revenue – Income
Assets – Liabilities
Revenues + Expense;
---
23) The system of recording transactions having two fundamental aspects is known as:
Single entry system
Modem System
Double entry system
None of these
---
24) According to this concept. it is assumed that business will exist for an indefinite time period:
Business entity concept
Going concern concept
Realisation Concept
None of these
---
25)Business and owner both have separate identity:
Cost concept
Realization concept
Going concern concept
Business entity concept
---
26 A record is made only of those information that can be expressed in monetary terms:
Accounting period concept
Going concern concept
Non-monetary concept
Money measurement concept
---
27. An asset is recorded at a price at which it is acquired:
Realization concept.
Cost concept
Money measurement concept
Dual aspect concept
---
28) Modern accounting is based on:
Going concern concept
Dual aspect concept
Cost concept
Matching concept
---
29) Expenses are matched with revenues to study the business result:
Business entity concept
Dual aspect
Matching concept
Cost concept
---
30) Revenues recognized at the time when goods are sold or services are rendered:
Dual aspect concept
Realization concept
Cost concept
Money measurement concept
---
31) According to this convention. 'anticipate no profits but provide for all possible losses:
Materiality
Conservatism
Full disclosure
Consistency
---
32. According to this convention. the users of financial statements are informed of any facts necessary for the proper interpretation of statements.
Consistency
Conservatism
Materiality
Full disclosure
---
33. According to this convention. accounting practice should remain unchanged from one period to another:
consistency
Materiality
Conservatism
Full disclosure
---
34) A business in which a merchant purchases goods and sells it in the same position is called:
Service concern
Manufacturing Concern
Trading Concern
Nominal concer
---