We are providing accurate Some Basic Concepts of Chemistry Class 11 Mcq with Answers. Firstly You can read First year some basic concepts of chemistry class 11 mcq with answers pdf.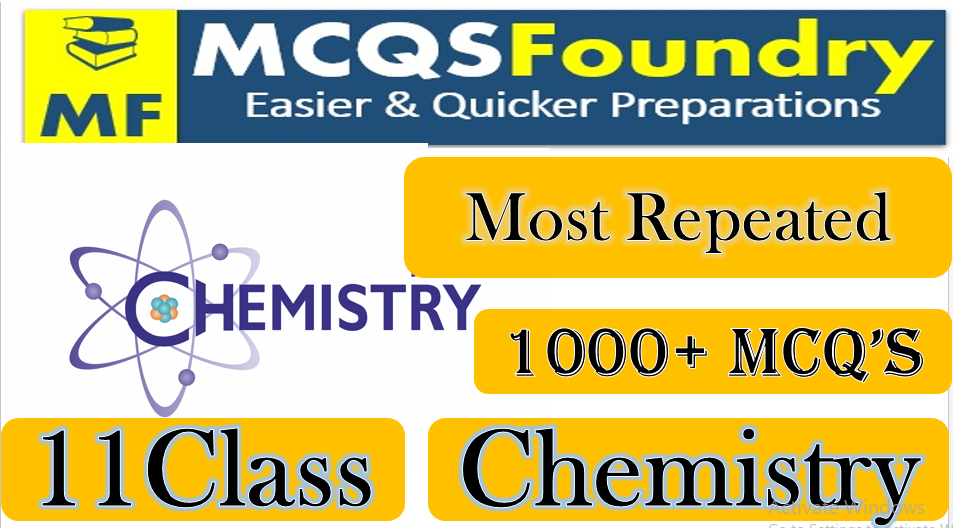 Chemistry Mcq Questions For Class 11 Pdf Download Chapter
Chapter 2
Experimental Techniques in Chemistry
1. In paper chromatography, the point to which the solvent rises to maximum extent is called:
Eluent
Chromatogram
Solvent front ent front
Base line
2. Which one of the following substances is used as decolorizing agent:
Animal charcoal
Conc. H2SO4
CaCl2
Silica gel
3. The iodi ne present in water can be separated by which one of the following techniques:
Sublimation
Chromatography
Filtration
Solvent extraction
4. Chromatography in which the stationary phase is liquid will be known as:
Adsorption chromatography
Partition chromatography
Column chromatography
None of these
5. Rate of filtration can be increased using:
Desiccator
Chromatographic tank
Cold finger
Suction flask
6. A component having small value of K (distribution coefficient) mostly remains in:
Stationary phase
Mobile phase
Chromatographic tank
7. None of these Direct conversion of solid into vapors is called:
Crystallization
Sublimation
Distribution
Vaporization
8. Which of the following is purified by sublimation:
Naphthalene
Benzoic acid
Ammonium chloride
All of these
9. Substance that does not show the process of sublimation is:
K2Cr0O7
Iodine
Naphthalene
NH4Cl
10. Solvent extraction is an equilibrium process and is controlled by:
Distribution law
The amount of solvent used
Law of mass action
The amount of solute
11. Which is not used as drying agent in vacuum desiccator is:
P2O5
CaCl2
MgCl2
Silica gel
12. Which chemical do not undergo sublimation?
KMnO4
Naphthalene
NH4Cl
Iodine
13. Iodine dissolves in water in the presence of KI due to formation of which one of the following species?
12
1
13
 
14. The most common solvent used in solvent extraction is:
Acetone
Ethanol
Rectified spirit
Diethyl ether
15. Which of the following substance shows the property of sublimation?
Sodium chloride
Ammonium chloride
Copper chloride
Acetic acid
16. In paper chromatography, the mobile phase is usually:
Liquid ammonia
Water
Organic liquid
None of these
17. The comparative rate at which the solutes move in paper chromatography depends on:
The size of paper
Rr values of solutes
Temperature of the experiment
Size of the chromatographic tank used
18. When hot saturated solution is cooled very slowly we get:
Medium size crystals
Large size crystals
Premature crystallization of the substance
No crystals
19. Chromatography is the process which involves the distribution of a solute between:
Two mobile phases
A stationary phase and a mobile phase
Two stationary and two mobile phases
Two stationary phases
20. In CCl4 solvent, I2 shows:
Blue colour
Brown colour
Pink colour
Purple colour
21. The drying Agents used in vacuum desiccator are:
CaCl2
Silica gel
Both a and b
None
22. The ratio of the solute in organic phase to that in aqueous phase is called:
Rate constant
Equilibrium constant
Distribution coefficient
Arrhenius constant
23. When an organic compound which is volatile or thermally unstable it is separated by:
Crystallization
Sublimation
Solvent extraction
Chromatography
24. Iodine can be purified by process of:
Evaporation
Saponification
Sublimation
Crystallization
25. Insoluble particles can be separated from a liquid by:
Sublimation
Solvent extraction
Filtration
Crystallization
26. Repeated extraction using small portion of solvent are more:
Accurate
Efficient
Slow
Rapid
27. The chromatography in which stationary phase is liquid is called:
Partition chromatography
Column chromatography
Adsorption chromatography
All of these
28. In chromatography the stationary phase:
is a solid
Is a liquid
May be liquid or gas
May be solid or liquid
29. The drying agents used in vacuum desiccator are:
AGCI
NH4Cl
CaCl2
AICI:
30. Gooch crucible is made of:
Asbestos
Clay
Porcelain
Iron
31. Solvent extraction is a process:
Exothermic
Endothermic
Equilibrium
Non-equilibrium
32. Purity of a substance is checked by:
Crystallization
Sublimation
Solvent extraction
Chromatography