We are providing accurate Some Basic Concepts of Chemistry Class 11 Mcq with Answers. Firstly You can read First year some basic concepts of chemistry class 11 mcq with answers pdf.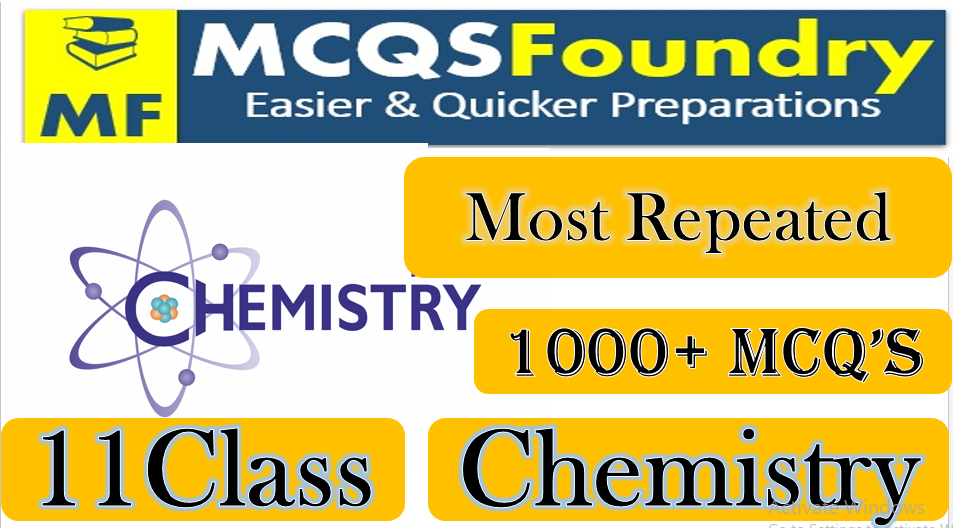 Chemistry Mcq Questions For Class 11 Pdf Download Chapter
Chapter 5
Atomic Structure
1. Maximum number of electrons in a subshell is given by:
2 + 1
2-1
2(2 + 1)
2 (2-1)
2. An orbital can accommodate maximum electrons:
10
14
6
2
3. How many times the mass of neutron is greater than that of electron?
1480
2000
200
1840
4. Lyman Series is obtained when electron in an atom jumps from higher energy level to:
Ground level
2nd level
3rd level
4th level
5. When 6d orbital is complete, the entering electron goes into:
7f
7s
7p
7d
6. Lyman series occur in:
Visible region
U.V. region
I.R. region
None of these
7. e/m value for positive rays is maximum for:
Hydrogen
Helium
Oxygen
Nitrogen
8. According to Bohr's atomic model, radius of second orbit of hydrogen atom is:
0.529 Å
2.116 A
4.0 Å
9. Lines of Paschen series are produced when electrons jump from higher orbits to ——- orbit.
1st
2nd
3rd
4th
10. The electronic configuration of an atom is 1s2,25,2p4. The number of unpaired electrons in this atom is:
0
2
4
6
11. Negative charge on cathode rays we established by:
William Crook
Perrin
R.A Millikan
Hittorf
12. An orbital which is spherical and symmetrical is:
s-orbital
p-orbital
d-orbital
f-orbital
13. Angstrom is the unit of:
time
length
mass
frequency
14. Mass of electron is:
9.1095 x 1031 kg
9.1095 x 10-31 kg
9.1095 x 10-27 kg
9.1095 x 10-31 g
15. Neutron was discovered by:
Chadwick
C.D. Anderson
Rutherford
Goldstein
16. Bambardment of a-particles on Beryllium (Be) atom, emits neutron and this process is called:
Natural radioactivity
Artificial radioactivity
Pauli's exclusion principle
Hund's rule
17. Balmer series in hydrogen spectrum lies in the region:
Ultraviolet
Visible
Infrared
Microwave
18. The value of Planck's constant is:
6.62 x 10-34 J.s
6.62 x 10-27 J.s
6.62 x 10-21 J.s.
6.62 x 10-31 J.s
19. Properties of waves are:
Wave length
Wave number
Frequency
All
20. The number of neutrons present in to K is:
39
18
20
19
21. When 4s orbital is complete, the electron goes into:
4p
3d
4d
4f
22. The limiting line of Balmer series lies in the region:
Visible
U.V.
Near I.R
Far IR
23. Which of the following orbitals is dumb bell shaped?
s-orbital
p-orbital
d-orbital
f-orbital
24. Free neutron decays into a proton with the emission of an electron and a
Positron
Neutrino
Beta Particle
Helium nucleus
25. The mass of an oxygen atom is:
2.657 x 10-23 g
2.657 x 1023g
16g
32g
26. The electrons occupying an orbital are distinguished by:
Magnetic quantum number
Principal quantum number
Azimuthal quantum number
Spin quantum number
27. The mass of proton is (in kg):
+1.6 x 10-19
-1.6 10-19
1.672 x 10-27
9.1 x 10-31
28. Bohr's model of atom is contradicted by:
Photo electric effect
Pauli's exclusion principle
Heisenberg's uncertainty principle
Aufbau principle
29. K-series X-Rays have wavelength:
Longer
Smaller
Same
Different
30. What is the value of (n + l) for the 3s subshell?
2
1
5
3
31. Cathode rays consist of:
Electrons
Protons
Neutrons
Nucleons
32. The d-subshell consists of:
5-orbitals
6-orbitals
7-orbitals
10-orbitals
33. Orbitals having same energy are called:
Hybrid orbitals
Valence orbitals
d-orbitals
Degenerate orbitals
34. Positive rays were discovered by:
J.J. Thomson
Rutherford
William Crooks
E. Goldstein
35. Mass of one mole of electron is:
0.55 mg
0.184 mg
1.673 mg
1.008 mg
36. For the P sub shell the azimuthal quantum number"/" is:
2
3
zero
1
37. If an electron is free from the attraction of nucleus then its energy is:
Negative
Positive
Zero
None of these
38. In discharge tube experiment, the pressure of gas was maintained at:
760 torr
0.1 torr
0.01 torr
None
39. Splitting of spectral lines when atoms are subjected to strong magnet
Zeeman effect
Stark effect
Compton effect
Photoelectric effect
40. Which one of the following series lies in ultraviolet region:
Lyman
Balmer
Paschen
Brackett
41. The shape of 'P' orbitals is:
Double dumb-bell
Spherical
Dumb-bell
Complicated
42. Value of Rydberg's constant is:
1.7904 x 107 m-1
1.9768×107 m-1
1.09678 x 107 m-1
1.6 x 107 m-1
43. When the Azimuthal quantum number is 3 then 'm' can have
5 values
7 values
2 values
3 values
44. Total number of spectral regions in sunlight spectrum is:
4
6
7
8