We are providing accurate Some Basic Concepts of Chemistry Class 11 Mcq with Answers. Firstly You can read First year some basic concepts of chemistry class 11 mcq with answers pdf.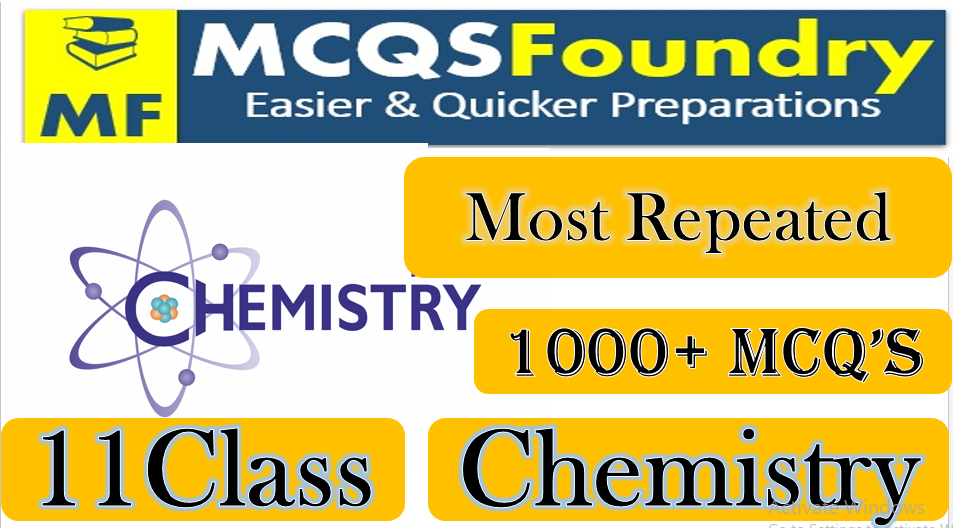 Chemistry Mcq Questions For Class 11 Pdf Download Chapter
Chapter 4
Liquids & Solids
1. Which one is the example of cubic crystals?
Graphite
Sugar
Borax
Diamond
2. The boiling point of the halogens:
Increase down the group
Decrease down the group
Remains constant
can't be predicted
3. Vapor pressure of a liquid in a closed container depends upon:
Surface area of container
Temperature
Amount of liquid
All of these
4. A crystal system in which all the axes and angles are unequal is called:
Tetragonal system
Monoclinic system
Triclinic system
Cubic system
5. At Murree hills water boils at:
98°C
100°C
0°C
50°C
6. Coordination number of Nation in NaCl is:
One
Two
Four
Six
7. Water may boil at 120°C when external pressure is:
369 torre
700 torr
760 torr
1489 torr
8. Crystals formed due to London forces of interaction are:
lonic
Covalent
Molecular
Metallic
9. Forces which are preset between ions and water molecules are
Dipole-induced dipole forces
Dipole-dipole forces
Ion dipole forces
London dispersion forces
10. How many allotropic forms are present in carbon?
TWO
Three
Four
Five
11. Transition temperature of tin is
95.5°C
13.2°C
0°C
128.5°C
12. The crystal of diamond is:
Ionic
Covalent
Molecular
Metallic
13. Liquid hydrocarbon is:
Methane
Propane
Ethane
Hexane
14. The example of hexagonal system is:
Sulphur
Naci
Graphite
Diamond
15. Hydrogen bonding is strongest in:
Hl
HBO
HCI
HF
16. Allotropy is the property of:
Element
Compound
Mixture
Ions
17. Ice occupies more space than liquid water.
9%
10%
11%
12%
18. Structure of ice is:
Tetrahedral
Octahedral
Cubic
Triclinic
19. In orthorhombic crystal, the unit cell dimensions are:
a = b = ca = B = y = 90°
a+b+ca = B = y = 90°
Sab+ca = B = y + 90°
a+b+c a = B = y + 90°
20. London dispersion forces are significant for:
Polar molecules
Ionic solids
Metals
Non polar molecules
21. Which substance shows anisotropic behavior in electrical conductivity?
Diamond
Graphite
KC
Ice
22. The boiling points of higher alkanes are greater than those of lower alkanes due to the reasons that:
Higher alkanes have greater number of atoms
The polarizability of higher alkanes is greater
Higher alkanes have zigzag structures
Higher alkanes have greater hydrogen bonding
23. Water has maximum density at:
4°C
0°C
100°C
10°C
24. K2SO4 and K2CrO4 are isomorphic solids and exist in:
Cubic form
Orthorhombic form
Trigonal form
Tetragonal
25. The transition temperature of KNO3 is:
13.2°C
95.5°C
128oC
32.02oC
26. The distillation of liquid under reduced pressure is called:
Destructive distillation
Vacuum distillation
Fractional distillation
Simple distillation
27. The structure of sodium chloride is:
Body centered cube
Face centered cube
Simple cube
None
28. The forces which are present between the ions and the water molecules are known as:
Dipole induced forces
Ion-dipole forces
Dipole-dipole forces
London dispersion forces
29. LiF is a crystalline substance and has:
Ionic crystals
Metallic crystals
Covalent crystals
Molecular crystals
30. Which of the following liquid has highest boiling point?
HCI
HBr
CHO
Br2
31. The number of Nations which surround each cl ion in the NaCl crystal is:
4
6
8
12
32. Liquids evaporate at every temperature. When the temperature becomes constant for a liquid then:
Rate of evaporation is greater than the rate of condensation.
The rate of condensation is greater than the rate of evaporation.
The rate of condensation and evaporation becomes equal
Depends upon the nature of the liquid
33. Ionic solid don't conduct the electrical current because:
ons do not have translatory motion
Free electrons are less
The coordination number of the ion is very high
Strong covalent bonds are present in their structure
34. Amorphous means:
Ordered
Arranged
Shaped
Shapeless
35. Polarizability is measure of extent of distortion:
Qualitative
Quantitative
Systematic
None of these
36. Heat change for one mole of a solid during converting into liquid is called:
Molar heat of vaporization
Molar heat of sublimation
Molar heat of fusion
Enthalpy change
37. Which of the following does not form a molecular crystal?
Ice
Graphite
Iodine
Sugar
38. Evaporation causes:
Cooling
Heating
Boiling
irritation
39. Diamond and graphite are example of:
Isomorphism
Polymorphism
Isomerism
Allotropy
40. Dipole-induced dipole forces are also called:
London dispersion forces
Debye forces
Huckel forces
Electrostatic forces
41. The size of diameter of double helix of DNA is:
18-20 Å
20-30 Å
1-10 Å
25-30 Å
42. Which statement is incorrect about tetragonal crystal system?
a = b = c
a = b = c
a = B = y = 90°
NONE
43. Crystal system shown by diamond is:
Cubic
Tetragonal
Monoclinic
Hexagonal
44. The strongest acid among halogen acids is:
HF
HCI
HBO
HI
45. The number of Cl+ ions per unit cell of NaCl is:
8
6
4
2
46. How much more space is occupied by water on freezing:
9%
8%
7%
6%
47. Boiling point of H2O at Mount Everest would be:
98°C
100°C
101°C
69oC
48. Allotropy is the property of:
Compound
Element
Atoms
Mixture
49. Hydrogen bonding is maximum for:
Ethanol
Water
Benzene
Diethyl ether
50. The existence of an element in more than one crystalline forms:
Allotropy
Isotropy
Isomorphism
Polymorphism
51. Dry ice (Solid CO2) is an example of solid:
Covalent
Molecular
Ionic
52. Glycerine decomposes at its:
Melting point
Boiling point
Freezing point
Critical point
53. Which one is the following is a pseudo solid:
CaF2
Naci
Borax
Glass