We are providing accurate Some Basic Concepts of Chemistry Class 11 Mcq with Answers. Firstly You can read First year some basic concepts of chemistry class 11 mcq with answers pdf.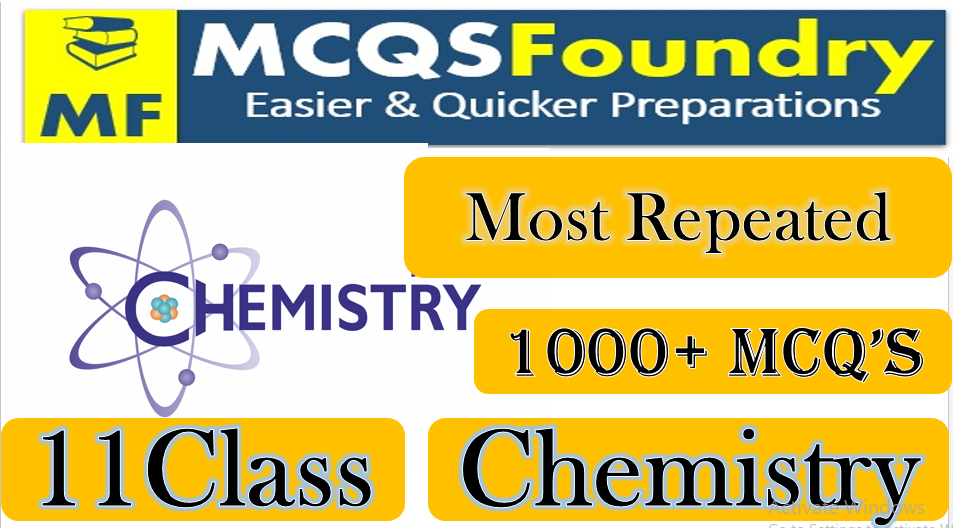 Chemistry Mcq Questions For Class 11 Pdf Download Chapter
Chapter 9
Solutions
1. Depression in the freezing point is directly proportional to:
Molarity of solution
Molality of solution
Molality of solvent
None
2. Molarity of solution is expressed in:
Moles/kg
g.dm 3
dm3 mole-1
mole. dm3
3. The no. of moles of solute dissolved per dm3 of solution is called which among the following:
Molarity
Molality
Normality
Mole fraction
4. Benzene – ether can form:
Ideal solution
Non-ideal solution
Buffer solution
None of these
5. In a mixture of 28 grams of N2 and 96 grams of O2 the mole fraction of N2:
1.1
0.51
0.25
0.11
6. Which salt dissolves in water to form a solution with a pH greater than 7.
Naci
CuSO4
Na2CO3
NHẠC
7. The number of moles of solute per kilogram of solvent is called:
Molality
Molarity
Mole-fraction
Normality
8. 0.1 molar of solute dissolved in 100g of the solvent will be:
0.1 molar
1.0 molal
0.5 molal
none of these
10. The amount of NaOH required to prepared 250 cm of 1M solution in grams is:
10
15
20
25
11. 10g NaOH dissolved per 250 cm3 of solution has molality:
0.5 M
1.0M
1.5 M
2.0 M
12. The azeotropic mixture of solution showing positive deviation can be distilled at boiling point.
Maximum
Minimum
No sharp
None of these
13. The hydration energy of Br ion is_ _than F– ion:
Equal to
Smaller than
Greater than
None of these
14. The molal boiling point elevation depends upon.
Nature of solvent
Vapour pressure of solution
Nature of solute
pH of solution
15. Chemical used to protect a car by preventing the liquid in the radiator from freezing is:
Phenol
Ethylene glycol
KNO3
Methanol
16. Which is a Colligative property?
Change in vapour pressure of a solution
Change in free energy of a solution (
Solvent in the solution
Lowering of vapour pressure of a solution
17. The concentration of solute in the solution when it is in equilibrium with the solid substance at a particular temperature is called its:
Solubility Be
Molarity
Molality
Mole fraction
18. Molar concentration is called:
Active mass
Weight
Mass
None of these
19. An aqueous solution of potassium acetate (CH3OOK) is:
Acidic
Basic
Neutral
Amphoteric
20. 2g of NaOH is dissolved in 500 cm3 of solution. The molarity of the solution is:
2.0 M
1.0 M
0.2
0.1 M
21. Which one of the following gives acidic solution when dissolved in H2O?
Naci
Na2SO4
NH4Cl
CH3COONH4
22. In a mixture of 7g of N2 and 8g of O2 the mole fraction of O2 is:
1
0.2
0.5
0.2
23. Cheese and butter are the example of solution of:
Liquid in liquid
Solid in solid
Liquid in solid
Solid in liquid
24. A solution containing 5.3 g of Na2CO3 dissolved per dm' is:
1.0 M Ta
0.1M
0.5 M
0.05 M
25. Water of crystallization of CuSO4 is:
five
ten
two
Six
26. If we dissolve Na2SO4 in water then the solution is:
Acidic
Basic
Neutral
All of these
27. Solution containing relatively lower concentrations of solutes are called:
Dilute solutions
Concentrated solutions
Saturated solutions
Ideal solutions
28. The critical solution temperature of phenol-water system is:
35.6°C
49.5°C
57.8°C
65.9°C
29. Which one of the following is an ideal solution: d
CH3OH and H2O
C6H6 and CCl4
CHCl3 and (CH3)2CO
H2O and HCI
30. The mass of Glucose required to prepare 1 dm of 20% glucose solution is:
18g
180g
369
200g