We are providing accurate Some Basic Concepts of Chemistry Class 11 Mcq with Answers. Firstly You can read First year some basic concepts of chemistry class 11 mcq with answers pdf.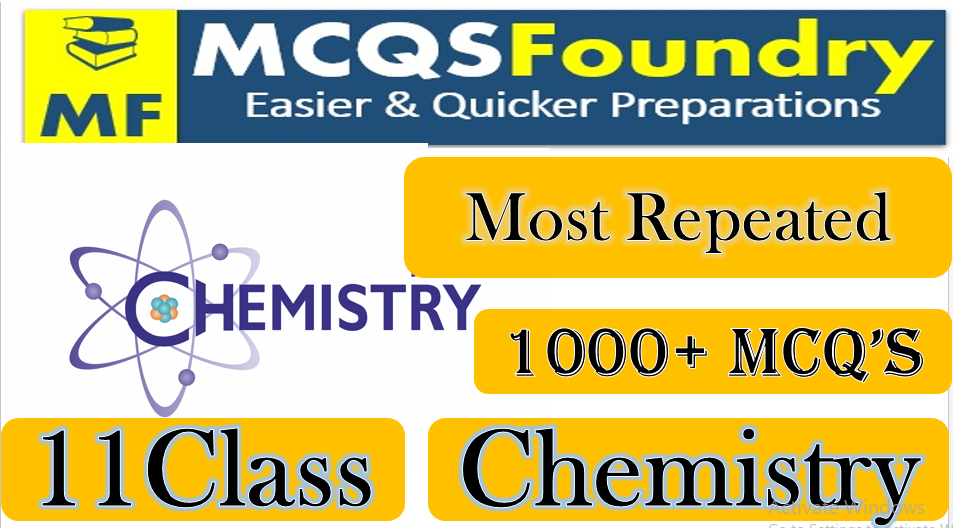 Chemistry Mcq Questions For Class 11 Pdf Download Chapter
Chapter 8
Chemical Equilibrium
1. The value of pH and poH of pure water at 25°C is approximately:
14
7
1 x 10-14
1 x 1014
2. Equilibrium constant for gaseous equilibrium is represented by:
Ka
K c
Kk
Kp
3. Conjugate acid of a very strong base is relatively:
Very strong acid
Weak acid
Very weak acid
strong acid
4. Molarity of pure water is:
1
18
55.5
6
5. The suppression of ionization of weak acid or a weak base by adding one of its own ions is known as:
Buffer action
Common ion effect
Buffer capacity
ionization effect
6. By adding NH4Cl to NH4OH solution, the ionization of NH4OH:
Increases
Decreases
Remain same
Increases 100 times
7. pH of tomato is:
1.2
4.2
7.2
9.2
8. When Kc value is small, the equilibrium position is:
Towards left
Towards right
Remains unchanged
None of these
9. A basic buffer solution can be prepared by mixing:
A strong acid and salt with weak base
Weak base and its salt with strong acid
Strong base and its salt with weak acid
Weak acid and its salt with strong ba se
10. The pOH of solution is 4. The H+ ions concentration of solution is:
4.0 moles/dm2
10-10 moles/dm3
0.4 moles/dm3
4x 104 moles/dm3
11. The concentrations of reactants and products at equilibrium are which among the following option:
Equals
Maximum
Minimum
Constant
12. The term pH was introduced by:
Henderson
Sorenson
Goldstein
Thomson
13. The relationship between Kp and Kc is given by:
KC = Kp
Kc = Kp Error! 
Kp = Kc (RT)n
Kp = K (RT)n
14. The solubility of KClO3 in water is suppressed by adding which among the following option:
NaClO3
Nacio
KMNO4
KCI
15. Law of mass action was derived by Guldberg and wage in:
1909
1906
1846
1864
16. Ionization of hydrogen sulphide gas is suppressed by:
KC
NaCl
HCI
NH4Cl
17. The pH of human blood is:
7.0
4.0
6.5
7.4
18. The ionic product of water will increase if:
H+ ions are added
OH– ion are added
Temperature is increased
H+ and OH– ions are added in equal amount.
19. When HCl is added to H2S aqueous solution, its ionization choose one among the following:
Increases
Remains constant
Decreases
First decreases then increases
20. Which of the following factor affects on equilibrium constant?
Change in temperature
Change in concentration
Change in Pressure
Change in volume
21. Which one of the following salt dissolves in water to form a solution with pH greater than 7?
NaCl
CuSO4
Na2CO3
NH4Cl 
22. pH of milk is 6.5, its poH will be:
14
7.5
7
none of these
23. The unit of equilibrium constant kc for the reaction H2 + I2 2HI is:
Mole 1 dm3
Mole 2 dm3
Mole dm1
None of these
24. Which of the following reactions will be favored to the forward direction at low pressure?
N2 + O2   2NO
N2 + 3H2  2NH3
PCLs  PCl3 + Cl2
H2 + I2  2HI
25. pH of a buffer can be calculated by using:
Moseley's equation
Henderson's equation
De-Broglie's equation
Bohr's equation
26. In synthesis of ammonia by Haber's process. The optimum condition for pressure is:
150-160 atm
170-200atm
200-300 atm
300-350 atm
27. A solution has pOH = 12 it is:
A base
An acid
Neutral
None of these
28. In the reaction N2 + 3H2 2NH3 the catalyst used is:
Fe
Ni
Pt
Pd
29. The value of equilibrium constant can predict:
The direction of reaction
The extent of reaction
The effect of catalyst used
Both the direction and extent of reaction
30. The pH of 10-3 mol dm-3 of an aqueous solution of HCl is:
3.0
2.7
2.0
1.5
31. Formation of NH3 is an exothermic reaction. Low temperature favors forward reaction. However, in Haber's process temperature used is:
200°C 
300°C
400°C
500°C
32. The unit of equilibrium constant (Kc) for the reaction:
N2 + 3H2 2NH3 H -92KJ mol-1 will be:.
Having no unit
Mole dm3
Mole+2 dm
Mole-2dm+6
33. When KCl is added to a saturated solution of KCLO3, the equilibrium is shifted to the:
Forward direction
Backward direction
Not affected
All of these
34. In which of the following reactions Kc and Kp will be equal:
PCls  PCl3 + Cl2
N2 + 3H2  2NH3
2SO2 + O2  2SO3
N2 + O2  2NO
35. When HCl is passed through saturated solution of NaCl the solubility of NaCl is:
Increased
Decreased
Not affected
None of all
36. pH of rain water is:
5.0
6.0
6.2
7.0
37. The law of mass action was given by which among following:
D.C Down and P. Waage
Gay-Lussaic and C.M Guldberg
C.M Guldberg and P. Waage
Handerson and Le-Chatelier