We are providing accurate Some Basic Concepts of Chemistry Class 11 Mcq with Answers. Firstly You can read First year some basic concepts of chemistry class 11 mcq with answers pdf.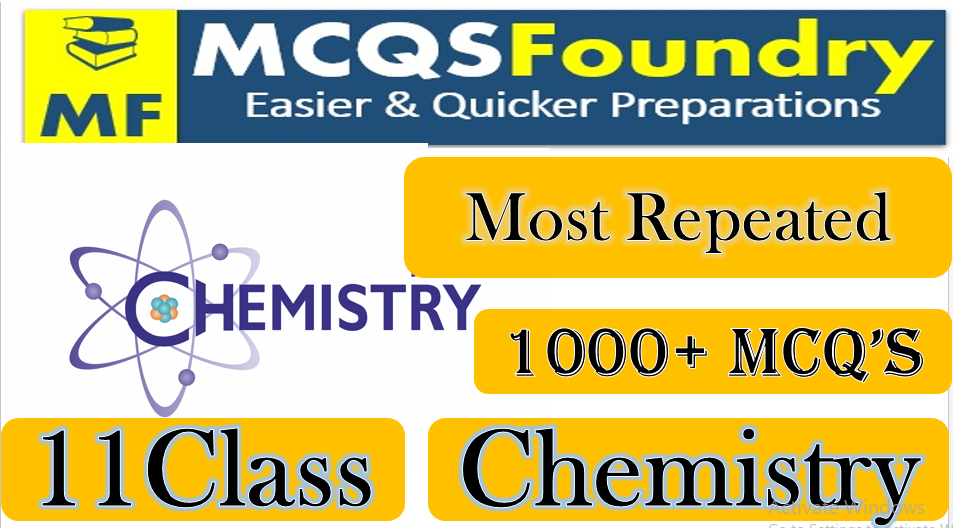 Chemistry Mcq Questions For Class 11 Pdf Download Chapter
Chapter 7
Thermochemistry
1. Spontaneous reactions are:
Reversible
Irreversible
Non irreversible
None of these
2. The standard heat changes occur at:
25°C and 2 atm
298 K and 1 atm
25°C and 1 mm hg All Past P
273 K and 1 atm
3. H+ + OH → H2O the change in enthalpy for reaction is called:
Heat of reaction
heat of formation
Heat of neutralization
Heat of combustion
4. The net change in energy in a chemical reaction is same whether it takes place directly or indirectly. It is called:
Henry's law
Charlie's law
Hess's law
Graham's law
5. The enthalpy change when one mole of substance is completely burnt in excess of oxygen is called which one of following:
Enthalpy of atomization
Enthalpy of neutralization
Enthalpy of Combustion
Enthalpy of formation
6. Enthalpy change for the reaction: CH4(g) + 2O2(g) CO2(g) + 2H2O5 is called enthalpy of:
Formation
Combustion
Neutralization
Atomization
7. Standard enthalpies are measured at:
273 K
298K
373 K
All of these
8. The exothermic process is:
Evaporation
Sublimation
Respiration
Boiling
9. A state function which describes together the internal energy and the product of pressure and volume is called:
Enthalpy
Internal energy
Work
Free energy
10. The total heat content of system is called:
Entropy
Enthalpy
Temperature
Internal energy
11. Whenever a reaction is exothermic, then it means that:
The heat is transferred from surroundings to the system
The heat content of the reactant is greater than product
The heat content of the reactants is less than those of products
The heat is transferred from system to the surroundings.
12. At constant volume qv is equal to:
H
E
P
V
13. The value of AH being very small, the term A (PV) can be neglected, for the process involving:
Liquid and gas
Liquid and solids
Solids and gases
None of these
14. In a Bomb calorimeter, the reaction are carried out at constant:
Pressure
Work
Volume
None of these
15. Whenever a reaction is endothermic, than it means that:
Heat is transferred from surrounding to the system
Heat is transferred from system to the surrounding
Heat content of the products is greater than those of the reactant
Heat content of the reactants is greater than those of the products
16. The number of fundamental ways for transferring energy into or out of system is:
One
Two
Three
Four
17. Work is product of force and:
Volume
Time
Displacement
Pressure
18. The enthalpies of all elements in their standard states are which among of the following:
Unity
Zero
Always positive
Always Negative
19. Which one of the following is not a state function?
Pressure
Volume
Temperature
Heat
20. Born-Haber's cycle is used to determine the which one among the following:
Combustion energy
Decomposition energy
Lattice energy
Formation energy